Eating while traveling during a pandemic
Menu planning for 7+ days of travel across the country
Hey everyone! How's it going?
If you follow us on Instagram, Facebook, or Twitter, you might know that we're on the move again. After 3 months of being stationary, we are headed west. It's time to get some elevation and get out of the heat.
Unfortunately, the pandemic is far from over. Normally we wouldn't worry too much about carrying supplies. It's easy enough to pop into a store when needed. But out of respect for the communities we're crossing through and concern for our own health we want to keep interactions with the locals to a minimum.
That means trying to plan out food for the journey. And I didn't want to end up eating sandwiches and burgers for two weeks. But I also didn't want to spend too much time cooking. Especially since the weather would be HOT the whole way.
My menu plan
Calling this a menu plan is generous. I don't schedule meals for certain days. I have never done that. Plans change too much and it's hard to stick to. Instead, I pick out things I'm going to make and roughly how many meals they will cover.
Breakfast is always the same, oatmeal. So I don't think about that at all. Lunch and dinners are interchangeable. If we're in transit during lunchtime, we'll have sandwiches.
This menu planning kanban board seemed kind of cool when I saw it in someone's bullet journal but it seems a little overkill to me now. It's certainly WAY more organized than I am. We'll see if I find it useful to visualize all of our meals in this way. The dates are in pencil so I can reuse the board.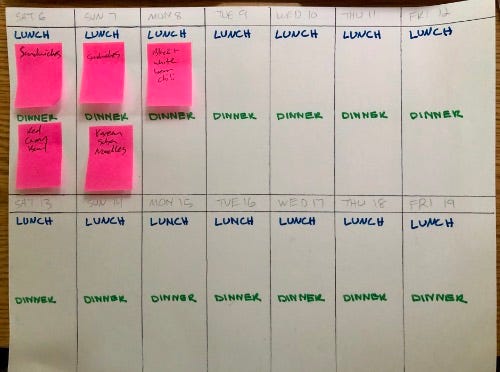 This might seem a little scattered because that's exactly how I am about menu planning. But if you keep reading you will be rewarded with some delicious recipes that are fast and easy.
What's cookin'
Sandwiches
For Kevin, I got a loaf of Dave's Killer Bread, two packs of lunchmeats, and two packs of cheese slices. (I'm not going to say "vegan" this and "vegan" that each time. If we're eating it, it's vegan. :D)
For me, I had some whole wheat wraps and pan-fried tofu leftover - enough for 3 wraps. I also made a batch of oil-free hummus to go on my wraps using the recipe from the How Not To Die Cookbook. And then I added lettuce and tomato. These are easy to put together ahead of time or on the fly.
And, we always have fruit with lunch. Apples, oranges, grapes, strawberries - whatever looks good and keeps well.
Black and White Bean Chili
Before we left, I made a batch of our Black and White Bean Chili and we had enough leftovers for another meal.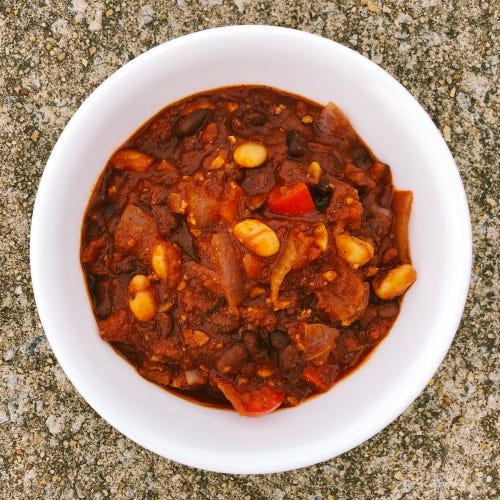 Korean Noodle Bowl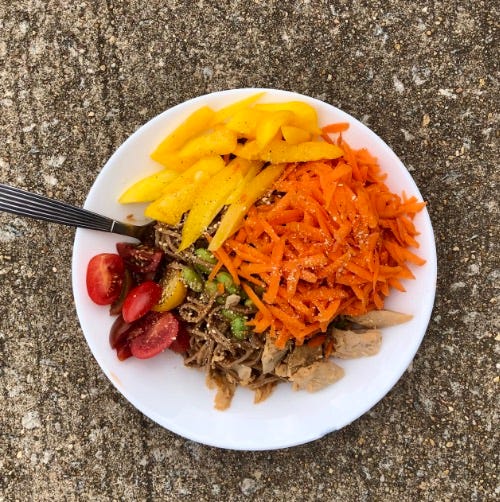 This recipe came in Cheap Lazy Vegan's ebook Everyday Asian Recipes. It's a refreshing noodle salad that can be served room temperature or cold.
This is one of those dishes that I never make the same twice. It lends itself well to what you have on hand. In the photo above, I added bell pepper, carrot, tomatoes, edamame, and the last of a bag of Daring plant-based chicken that we picked up at Sprouts.
Use whatever noodles you have. Rice noodles are also great and sweet potato starch noodles are really good too. Shredded lettuce or cabbage is nice. Try cucumber or radish. You could even throw some roasted sweet potatoes in here. We almost always eat this with kimchi. Wildbrine is the easiest to find vegan option.
I've made some substitutions so I'll go ahead and share the recipe with my tweaks. I do recommend you check out Rose's channel for more ideas, though.
Korean Noodle Bowl (2 servings)

Ingredients

2 servings soba (buckwheat) noodles or rice noodles or sweet potato noodles

3-4 cups of veggies (shredded carrot, cucumber, bell pepper, shredded cabbage, radish, lettuce, roasted sweet potato, shredded zucchini, etc.)

1/2 pound of pan-fried tofu or other protein like vegan chicken or beef strips or steamed shelled edamame

Sauce ingredients

2 tbsp gochujang

1 tbsp soy sauce

2 tbsp rice vinegar

1 teaspoon maple syrup or agave nectar

1 1/2 teaspoon minced garlic or 3/4 teaspoon dried

1 1/2 teaspoon tahini

1 tbsp water

Toppings

Instructions

Cook noodles according to package. Drain and rinse in cold water. Set aside.

While noodles are cooking, mix the sauce ingredients together in a bowl.

Prep your veggies, toppings, and protein. For pan-fried tofu, I cut a pressed block of tofu into 8 planks and fry it dry in a non-stick pan over medium heat. I sprinkle each side with salt and pepper.

Mix noodles and about half the sauce until noodles are coated.

Assemble your bowls. Lay noodles in the bowls first. Then top with your veggies and protein. Add remaining sauce to the top. Then add your toppings and serve.
Red Curry Kimchi Bowls
If you've been a subscriber since the beginning of Spoonfed, you'll know this one. I shared our Magical Red Curry Sauce recipe in the first issue and described some of our bowl configurations. During this trip, I'm planning on having it with broccoli, kimchi, lentils, and whichever grain is handy.
Burrito Bowl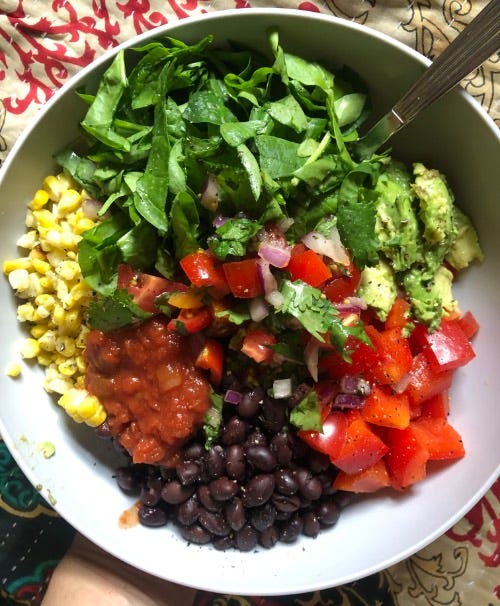 Burrito bowls are a staple for us. To make them even faster while we're traveling, I picked up some shortcuts: shelf-stable riced cauliflower, shelf-stable brown rice quinoa amaranth blend, and pre-made guacamole packets from Costco.
Bean Burrito Bowl (makes 2 bowls)

Ingredients

Pico de Gallo

2 cups of cooked quinoa, brown rice, cauliflower rice, or other grain

1 can black or pinto beans rinsed and drained

2 cups your favorite salad greens

1 cup salsa

1 small avocado

Instructions

Heat up quinoa or rice and beans separately on the stovetop or in the microwave.

Divide quinoa or rice and the beans between two bowls. Top each with half the Pico de Gallo, half the greens, half the salsa, and half the avocado, sliced.

Add some leftovers you need to use up like potato, tofu scramble, corn, etc. Add some fresh veggies like bell pepper or carrot. Top with cashew sour cream or pickled onion if you have them.
Burgers
Burgers are a no-brainer in the RV. Before we left Atlanta, I picked up two packs of Impossible meat at Kroger because I didn't know if we'd see it again. I also grabbed a pack of Boca Turk'y burgers. And I have ingredients to make black bean burgers.
The Boca burgers are the easiest because in a pinch you can microwave them. The Impossible burgers will be the second easiest as we'll want to grill those. And the black bean burgers require the food processor and then they need to be pan-fried or grilled. So I'll make those when we stay somewhere a couple of days.
For sides, I've got regular potatoes, sweet potatoes, Brussels sprouts, and frozen spinach. All the sides can be made in the microwave.
Chickpea Kale Curry
I'll also make this Chickpea Kale Curry recipe I found in a Forks Over Knives magazine. With canned chickpeas and kale in the freezer, these ingredients will hang around until I'm ready for them. But if my cilantro plant doesn't start producing we might have to go without it. I'll double this recipe so we can have two meals from it. And I'll use either the riced cauliflower or the brown rice quinoa blend mentioned above.
Indian Greens & Tofu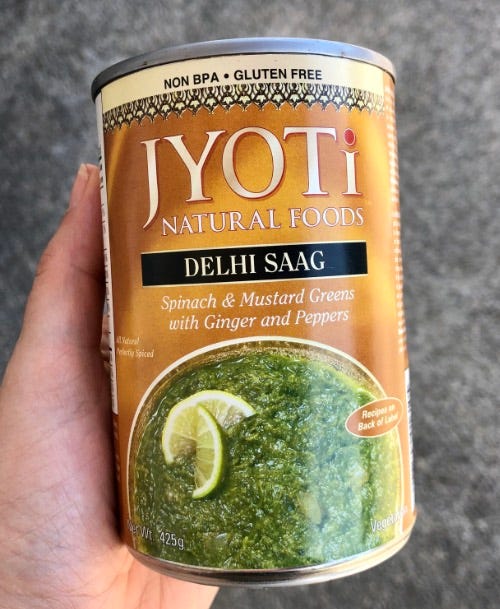 We have one can left of Jyoti Delhi Saag. To make a whole meal out of it, I'll start by pan-frying tofu until it has browned, then I'll add this can with a little water and continue cooking until heated through. We'll eat this with the riced cauliflower or brown rice quinoa. It's also delicious with chickpeas instead of tofu.
Ginger Miso Edamame Bowls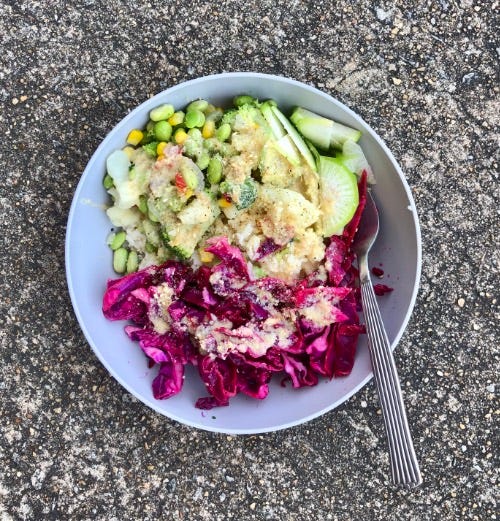 This is another bowl that I make different every time. Are you sensing a theme here when it comes to bowls? Make 'em your own! Really the sauce is where it's at. The rest you can vary to your taste and what you have on hand.
The recipe will be for what's pictured above, but feel free to eat this over any grain or Asian style noodles.
Ginger Miso Edamame Bowl (2 servings)

Sauce ingredients

2 tablespoons lemon juice

1 tablespoon maple syrup

1 tablespoon miso paste

1 tablespoon tahini

1 teaspoon freshly grated ginger

2 tablespoons water

Remaining ingredients

1 cup quick pickled cabbage (mix 1 cup shredded cabbage with 1 tbs rice vinegar and 1 tbs lemon juice in a glass jar, shake and let stand for at least one hour)

1 1/2 - 2 cups of cooked brown rice (or your favorite grain or noodle)

1/4 cup onion sliced into thin one-inch pieces

2 cups of frozen stir fry veggies

1 cup of frozen edamame

1/2 cup sliced radish (optional)

gomashio, to sprinkle on top (optional)

Instructions

At least an hour beforehand, pickle the cabbage. You can also just use raw sliced cabbage instead.

Whisk all the sauce ingredients together in a small bowl or blend in a blender. Set aside.

Heat up rice or prepare noodles or other grain.

Heat non-stick pan over medium heat. Add onion and cook, stirring occasionally, until it begins to soften, 3-4 minutes. Add water by the teaspoon as needed to prevent sticking.

Add stir fry veggies and edamame. Continue to cook until veggies are done.

Split rice between two bowls. Add the veggie mixture to each. Add the pickled cabbage and radish. Top with the ginger miso sauce. Add a sprinkle of gomashio if you like.
Of everything mentioned above, I've got 17 meals planned. I also have some other supplies I could break into if needed like jarred pasta sauce. I'll need to pop into a store for more fruit after that amount of time anyway so I feel pretty good about this.
What we eat in a day
What does a day of travel meals look like? I made a short video showing our meals for an entire travel day.
It's unlisted right now so you guys get to see it first! But I'll be releasing it to the public later.
Whew, so that's it! Do you have any super fast meal suggestions? I'd love to hear them. Actually, we all would so leave a comment on the post! And please feel free to share this email.
Until next time!